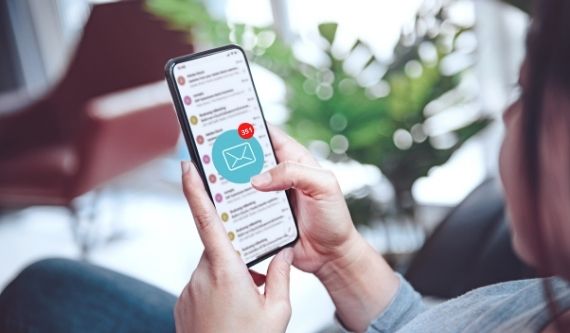 Work / Life Balance
Are you overwhelmed with the number of unread emails in your inbox?
Save time by outsourcing your emails!
According to statistics with FinancesOnline, the average person receives 121 emails a day. With 42% of open rates through smartphone or tablet devices, it's clear we spend a large part of each day in front of a screen!
Most people coordinate their work tasks through email. From communicating with stakeholders to keeping track of personal finances, it can be overwhelming.
Even with advanced communication tools such as Slack, Microsoft Teams, Asana, and many others, email still play a huge part in our lives and our work.
Hire someone competent and reliable
But what if there is someone out there who you can trust to manage and handle the ongoing emails you receive in your inbox?
When looking for someone to manage your emails, it's important they understand different email systems and all the technical aspects of them. You want to make sure they know how to drive and can figure out the functions quickly without your constant supervision.
Create a system
Creating templates for your email assistant for similar inquiries can make life easier. Having a guide on how you want your emails formatted for your business or personal brand makes it simpler for your assistant to respond to emails without having to rethink the format each time they send a reply.
Applying Folders & Filters
Being able to label and prioritize emails is essential to know what emails you want and don't want to see. Having all your emails in one inbox can be messy and complicated.
'No reply' folder: Adding a 'No reply' folder can be helpful for all newsletters and notifications that do not require a response or reply and are for review and delete only. These are not urgent emails and can be reviewed during your spare time.
Company/work folder: Having a company name folder itself can also help keep track of work emails only, under this folder you may add clients, teams, and HR folders for easier management.
Filters: Important emails can be also filtered to go straight to the main inbox and not be sent to the spam folder by mistake.
With Lisa and the team on board, you can put your mind at ease that nothing important is missed and all your emails are organised, responded to and filed correctly.
At Life Balance Essentials, we strive to deliver work-life balance to all our clients. We manage your emails, giving you back time and the freedom to focus on the things that matter most to you!
CONTINUE READING MORE FROM LIFE BALANCE ESSENTIALS